Live Update: 8.29.18
We are here in Wilson, North Carolina, where a new building for Vidant is close to being complete. This site is cleaned up and we have plants delivered ready to be installed, and sod is being rolled! Check back later for a finished project here in Wilson!
Live Update: 7.31.2018
On occassion, there are a variety of plants that must be planted during a specific timeline. Pond plugs are types of plants that must be planted in the warmer weather. These pond plugs go dormant during the winter, where the green sprouts that you typically see, are completely gone! That was just the case for this pond at a Publix in High Point, NC. This pond was built with the building this past winter, but in order to complete the pond, we were needed to return to plant the pond plugs. These plants are crucial for the function of the pond. We are happy to get these plants in the ground, and fully complete this project for our construction contractor!
Live Update: 6.29.2018
LR Griffin has more than just Landscaping and Irrigation specialty teams, we are also equipped to do striping! This week we have completed a job here in Greenville, NC. This is a new parking lot located in a part of downtown that is being revamped to a new level. This specific job requested blue handicap spots on concrete, along with the standard white parking stalls on asphalt. Check back with us later to get an update on what the LR Griffin team is up to now!
Live Update: 6.27.2018
We're back at the beach, and we have some new updates on this beautiful middle school! Sod has been installed, and that turf is looking strong. We are wrapping up outside areas, but this is the final update as this school is almost ready for this fall when the kids are back to school! Another project well done, with a wonderful team. Stay tuned for more updates as we shed light to a different side of LR Griffin!
Live Update : 5.25.18
This week we have been out of town working hard to get this Aldi ready out in Mount Airy, NC. Fresh sod has been rolled, and in our 2nd picture, you can see our irrigation system in action! Battling the heat to keep the fresh sod and plants watered is crucial to the survival of their adjustment. There is still a lot of work and clean – up to do, check back with us to see the finished look!
Surf City K-8 School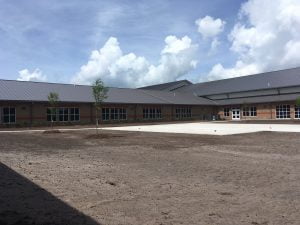 Live Update : 5.14.18
This 40 AC project we have contracted with Barnhill is coming along nicely! This week we planted most of our material, and are fine grading to prepare for turf! Check back with us later for another live update to see what else we have been working hard on!
Mailing Address:
PO Box 3588
Greenville, NC 27836-1588
Office (252) 752-6763
Fax (252) 353-4374
NC Landscape Contractors License # C-0226
NC Irrigation Contractors License # C-005