Live Update : 5.25.18
This week we have been out of town working hard to get this Aldi ready out in Mount Airy, NC. Fresh sod has been rolled, and in our 2nd picture, you can see our irrigation system in action! Battling the heat to keep the fresh sod and plants watered is crucial to the survival of their adjustment. There is still a lot of work and clean – up to do, check back with us to see the finished look!
Surf City K-8 School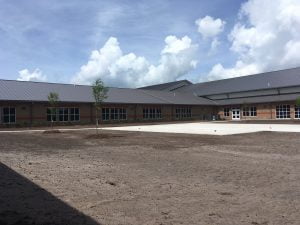 Live Update : 5.14.18
This 40 AC project we have contracted with Barnhill is coming along nicely! This week we planted most of our material, and are fine grading to prepare for turf! Check back with us later for another live update to see what else we have been working hard on!
Mailing Address:
PO Box 3588
Greenville, NC 27836-1588
Office (252) 752-6763
Fax (252) 353-4374
NC Landscape Contractors License # C-0226
NC Irrigation Contractors License # C-005